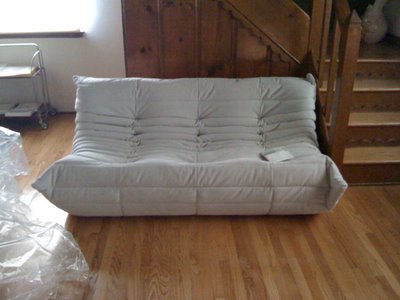 After 3 months, our pearl grey
TOGO
has finally arrived. Hooray! Phenomenal couch - iconic, comfortable, and most importantly, made sustainably.
Ligne Roset
is in rural France so they have no choice but to be efficient in their production process. The natural foam inside contains no
CFC
's and the wood panels inside contain lower levels of
formaldehyde
than the norm. Thought I would need to let it off gas it outdoors this afternoon, but there is hardly any "new couch" smell at all. Glues for the assembly of the frame and foam are water-based meaning no solvents are being released into the atmosphere.The
Alcantara
upholstery is cleaned using baby wipes per the sales lady and is backed by several certifications.
This is just the beginning of some long awaited remodeling and redecorating we will be doing this year. I have been holding off for many reasons, but mostly to research the sustainable route. Worth the wait!