This weekend's perfect weather equaled two perfect days in Palm Springs. Part 1, our hotel, the 
Horizon Hotel
. 
The first time we saw this hotel, was during an architectural tour we took in 2003. It had not yet been remodeled, so you could still get a glimpse of an old school glamour when the Rat Pack and crew would get away.
Bungalows center around a large lap pool. There are only 22 rooms so it's quiet and you quickly begin to recognize your neighbors.
We had a king room... black and white minimalist, relaxing, private, calm and sophisticated. AC was a little noisy because it was right next you. Solid blinds open to  sheer blinds, you had privacy, but with light and a view of the pool. Super cozy bed.
Sitting area with the pool in view and bathroom with hotel's signature dual indoor and outdoor shower. This was a first!
This was the view from our room and the sparkling pool. I get why people want pools and jacuzzis. I get it now. Everything outdoors was also black and white.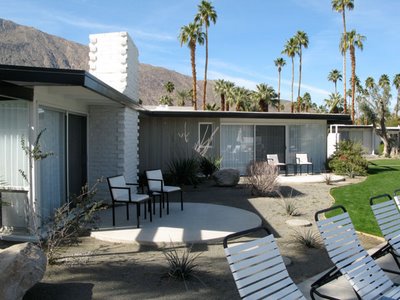 Loved the circular patios. I noticed this was the only room with a chimney. Three long bungalows all connected at one end with doors inside if you chose to share all three with family or friends. You can see two here.
Our front door and steps from our patio to the pool.
We upgraded to a room with a small kitchen so we could snack and lunch at our leisure. Brought with us fresh lettuce, tomatoes, and bread from Thursday's farmer's market. Then bought deli meat and potato salad from
Sherman's
in downtown Palm Springs. The wine was delicious and called "L".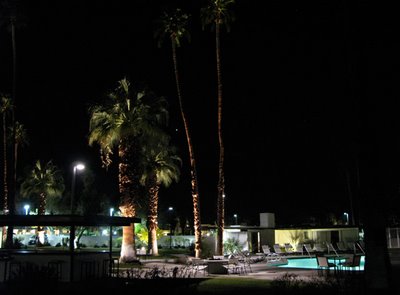 I quite liked this nighttime shot.