Continuing from
my post
a few days ago, this is the Urban Eco Kit I put together after taking Deborah's
workshop
. The premise behind the kit is just to be prepared when you are out and about in the city. I was finding myself lunching at home more because I didn't want to be given disposable crap. Now, I feel like I can order to go anytime without generating so much trash by the end! I must say, it's a phenomenal feeling.
This is a super basic kit that includes:
1. Stainless Steel
Container
- First of all, I think that a nice presentable container makes it easier to convince a person taking your food order to use it. This stainless steel one can easily handle hot food, which makes it better than plastic. I'm still using some
Tupperware
type stuff, but never for hot items or heating things up. Plastic leaches cancerous toxins at really high or really lo temeratures. This stainless steel is also lighter than glass, also making it easier for the cooks in the back kitchens to deal with.
This
is double decker container I just ordered. Deborah uses this one when she gets take out and says she's never been turned away. The only down side to this steel is that you can't heat it up in the microwave, but I've already usually eaten the food by then.
2. Insulated
Stainless Steel Mug
- Again using stainless steel especially for my scalding hot tea is better than the plastic versions which I've gotten rid of. My favorite new way of using it is when I get freshly made carrot juice from the natural food store or
Jamba Juice
. I'm not a big soda drinker, but I suppose your could fill it up at one of those all you can drink stations.
3. Cloth Napkin - This is pretty easy. So helpful when I've got to eat on the go, sometimes in my car before a workshop. I can use it a few times before washing and when I do that, I just throw it in with my darks. I also use them to wrap my utnesils.
4. Real Utensils and/or chopsticks - I hate using disposable plastic utensils! I've also seen those
Bambu sporks
.
5. Extras - I have to get salsa when I get a burrito. Burritos are so sad without salsa, so I am reusing one of those small plastic containers until I find a good one.
Everything fits perfectly in a lunch box size basket I got from the Philippines. I've been on a mission to really consciously reuse as much as possible.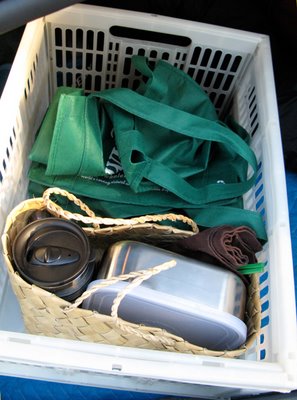 Urban Eco Kit and reusable bags sitting brilliantly in my collapsible crate in the trunk of my car.
I've benefited tremendously from taking these local green workshops and highly recommend to friends when they are ready to make changes. It's just a good cause for everyone. I'm not just trying to pimp my friend Deb, but despite all my good intentions, I honestly don't know if I would've been able to figure out how to make doing these things, creating these systems, as easy and less daunting.