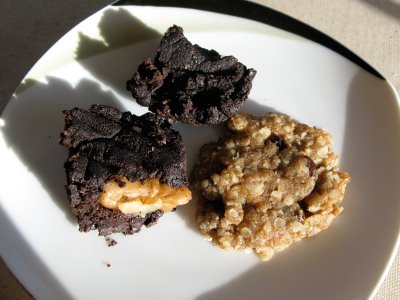 Sun Browned Brownies and Oatmeal Raisun Cookies from my new home made solar oven. I'm totally addicted to solar baking now!! Cookies called for an hour of sun, but my second and third batch worked better with an hour and a half. Brownies also called for an hour, but I did three.
So much to say about the
solar ovens
! Here is the one I
made
and cooked from basking in the sun. I seriously only used 2 cardboard boxes, tin foil, newspaper, glue, packing tape, and a turkey oven bag. The cookies I brought to Saturday's party at Adam's were a hit. Will post more about the oven soon...