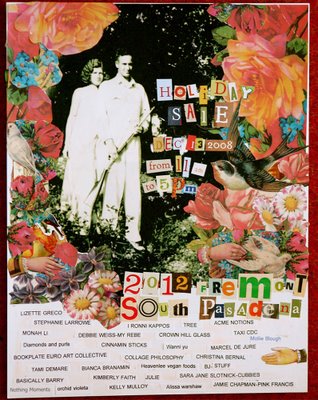 Gosh, lots of sales this year - and lots telling us to skip malls and support the little guys! YES! These are ones I'm going to
try
to hit this weekend. Must not forget to bring reusable bag!!
Unique Los Angeles - things you won't find at malls - Kumquat will be there! www.uniquelosangeles.com
Eco Gift Festival - lots of good eco gift buying! http://www.ecogift.com/
Julie Vogul's Sale - a yearly gathering of local craftistas! 2012 Fremont, South Pasadena, CA 11-5 today only
Reusablebags.com is also having a spectacular sale - bought a bunch of guy gifts. link to sale page
here.
past ones i gotta remember for next year...
Uncle Jer's Friends and Family Holiday Sale
Center for the Art ER Fundraiser
Felt Club
the crafty fair at Good Magazines headquarters
Viridis Luxe sample sale
one in Silverlake that I missed, I think it's going to be weekly flea market, yay!