the sewing area...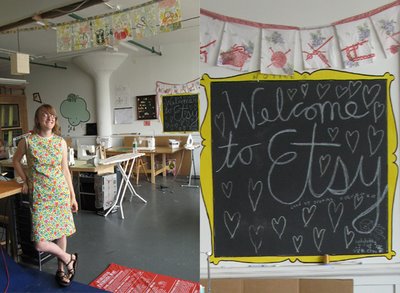 the screen printing and jewelry making area...
Julie, Mary, Danielle and Michelle in the office area...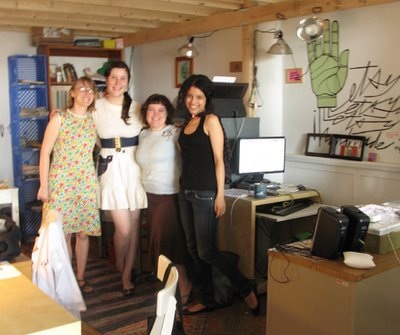 yarn and a monster size owl in the lobby!
What an amazing place. I knew that this would be something I wish we had here in LA. Hmmmm. This is
Etsy
's headquaters in Brooklyn, NY. I made the most of my carbon footprint by stopping by during my time in NY last week. This is also the home of their lab, where for $20 a month you can "make" all day long. It's amazing because they have the tools, the space, the materials, the know how, the company, the best attitudes - all the things you need to make a little handmade business work and take it to levels that will actually make you a living. Okay, who's going to start this here!? I'm determined to start with "make" night if anyone is interested. I know it's hard to get people together, but I also know that we all have these ideas that have been lingering in our heads and just need to be made!!
In the photos by the way, are the wonderful people I met - (l-r) Julie, Mary, Danielle, and Michelle. Danielle just moved to Brooklyn from Michigan and now works for Etsy after starting her whole local movement in a basement of a local church!