This morning I was
Ms. Emilyn
to a room full of first graders. Today is Earth Day so I stopped by my sister-in-law's classroom to help make sculptures using recycled materials brought in by the students. These sculptures will adorn their organic garden for the week.
My group of 6 assembled a brilliant tree house complete with ladder and slide. The bottle and basket on the side there are part of the rollercoaster, so fun!
Another group built a robot and another below is a sea garden. I forgot to photograph the fourth one that included solar panels that one little boy was so precisely able to explain as the sun making energy.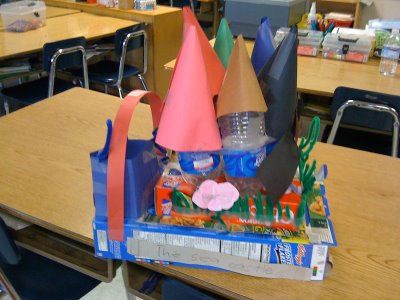 I was so impressed, mainly because these kids have serious imaginations! We could have kept building past the one hour time frame. The lesson - creative reuse, because we don't always need new things :)